Sale!
Bikes On Roof- Yellow ⚠
Out of stock
A line-of-sight reminder to spare your bike, roof rack, and garage.
If you carry a bike, board, or boat on top of your car, you know the risk is real.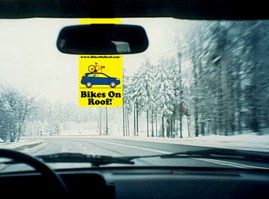 $8.oo (US shipping free)
This reminder tag can help spare your gear from a collision with any low-hanging hazard:
Garages
Drive-throughs
Car washes
Low underpasses
This roof rack reminder works because it's a habit to check the rear-view mirror.
Can you put a price on peace of mind? Clearly, this is a wise investment in your gear.