Who
Trailism began as a rebirth from an evolution of other websites that preceded it: trailsynergy.com, traillove.com, mtbthreads.com, trailthreads.com, and now trailism.com. MTB Threads began just before trail building was a career for me, but afterward it became a small way for me to have some income to offset periods of time when there was no trail work or there was an off-season due to weather.
For now I am mixing mostly trail building information (including my own) with a space for selling a few products. I might separate the two into different websites, but for now it is a convenient means for me to manage both in one location. It is also a way for visitors to get a small sense of who they might be doing business with. Hi! I'm Erik and I approve this message… If interested you can go the portfolio page for some hints about where I came from or have been. The gist of the non-shop side of the site or "Why" is at the about/purpose page. I am mostly modest, but I do some gloating here.
When and What
In the early 2000's I screen printed shirts for small indie punk bands as well as some bigger players: One Day As A Lion, The English Beat, and two Misfits side-projects (Graves and Gorgeous Frankenstein). I also did a few print runs for the artist Chris "Coop"er. This experience pushed me to transfer my passion for art and mountain biking to fabric so I created MTB Threads around 2007. A handful of the many designs I created are on this site (and on Flickr). I am slowly working my way through similar designs for hiking, trail running, and trail building.

At a later date I may resort to printing select designs in my garage as I did in the past, but for now it's on hold. I was outsourcing the printing and delivering of some designs with a print-on-demand service in several US states, but that is now on hold while I look for a local printer. See more information below under "sustainability."
Tees
Details about the two tees shirt styles used for sale in the shop are listed below. I prefer to use American Apparel (learn more). The unisex tees are American Apparel. The women's cuts are Avil (see below) because the printer does not offer USA made women specific cuts. Suffice it to say that I don't offer many women specific cuts for that reason. Any designs found on the unisex shirts can be added to the Anvil shirts if desired, contact me.
At this time the color choices are limited for American Apparel (11 total, no yellows nor oranges and safety colors). Organic shirts are available, but the color choices are even fewer. I can get other brands, colors, and styles if you have a preference. Designs can be added to long sleeve shirts, sweat shirts, and hoodies etc. Club or shop logos can be added as well, and custom commissioned pieces are not out of the question. Contact me to discuss your desire or needs. One nice aspect of doing it all myself in the past was that I had better control of product offerings.
American Apparel Fine Jersey Crewneck Unisex T-Shirt, style 2001 (see sample at American Apparel)
Made in the USA
Fabric weight: 4.3 oz/y² (146 g/m²)
Tight-knit
100% combed ring-spun cotton (unless otherwise noted)
Taped shoulder-to-shoulder, durable rib neckband
Double-needle sleeves and bottom hem
Women's Fashion Fit T-Shirt, Anvil 880 (more at manufacture site)
100% cotton (except for heather colors, which contain 10% polyester).
Pre-shrunk
Jersey knit
Classic fit
Taped neck and shoulders
Seamless, double-need ⅞" collar
Profits?
What goes in my pocket for each product? After shipping: Tees and Totes: $2-4; Stickers: $0.10-1.00; Hang tags: $2-4
It costs me about $180/year for the site hosting and SSL. Shipping differences and supplies costs vary from $5-80/year; I personally do all the site building/coding/updating, correspondences, and shipping of stickers and hang tags. This probably amounts to about a month or two of my time each year. Considering this, some years the profits are minimal. As of the end of 2020 volume is relatively low. It doesn't pay many bills, but I am thankful for what it does do.
Sustainability
Every product has a footprint and to some extent we can choose the size of the mark to leave. Print-On-Demand (POD) is one solution to choose apparel that's created as the order is placed, creating less fabric waste than conventional manufacturing which often prints based on volume to reduce costs or maximize profits. One in every five garments reaches a landfill without being worn once. Close to 85% of all textiles produced by the fashion industry end up in landfills and are sometimes burned. The idea behind this is multifaceted, but ultimately large or surplus supply keeps demand low, removing them reduces supply which raises prices and profits.
That said, I am trying to find a local printer that will use water based inks rather than plastisol, and do a reasonable POD service.
Gear and Grocery Totes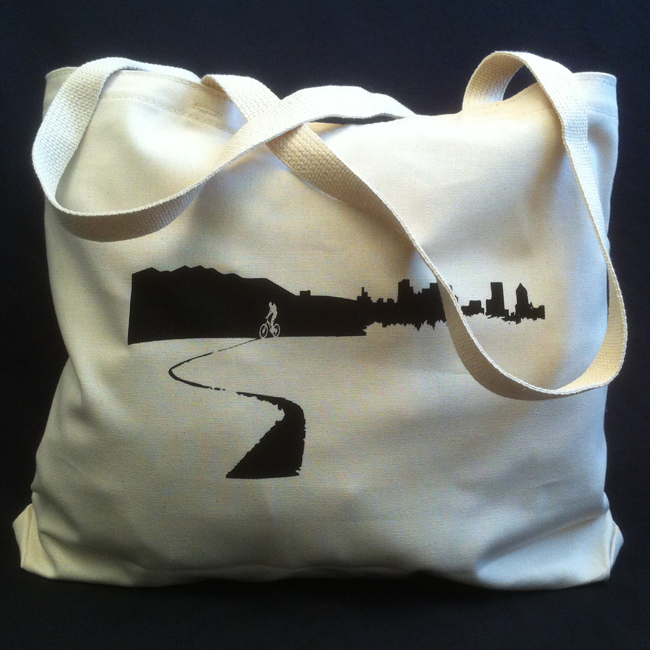 Similar to the tees, the printer might use substitutes, but at this time I am using only non-dyed natural organic totes made in the USA.
Hang Tags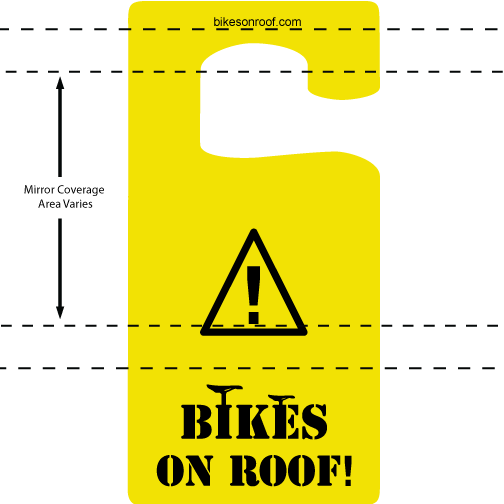 Hang tags are hung from rear view mirrors to help with saving gear from getting smashed from low hanging obstacles like garages and drive-thrus. The hang tags started when a friend of mine that helped with Dirty Century no longer wanted to deal with packaging and shipping them. He gifted the business to me. I procure the tags somewhat locally to me from Montrose, NY, and mail them myself from my home near the border of New York and New Jersey. Bikes on Roof | Gear on Roof
Stickers
Stickers are vinyl. The Trail Rating stickers use 3M reflective sheeting. Like the hang tags, I also mail the stickers myself from my home near the border of New York and New Jersey.
Custom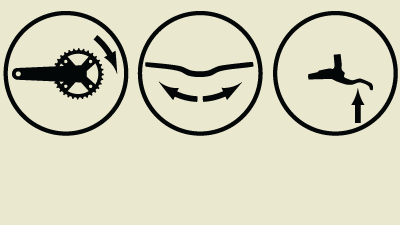 Commissioned or made-to-order designs and/or printing is available for you, your shop, team, club, or race event. Contact me to discuss your needs so I can design and/or print them for you. Previous client sample portfolios are available upon request, or you can see some of them at Flickr