Three days ago I wrapped up six months of trail work in New York. I wanted to go 'home' to San Diego, but I sort of began a new home in NY. It takes a relatively short period of time for me to feel connected to the places I stay, sometimes a weekend will suffice, causing a little 'separation anxiety,' or a soft pang of sorrow for having to leave. It's even harder when you make some human connections that mean something, which certainly was the case with the trail crews, and various other people I met along the way in New York.
In three days I was going to reconnect with some friends I hadn't seen in 23 years. Two were around the corner from Douthat, and the rest scattered near and far from our old neighborhood. I would meet four of them at the place we always wanted to be growing up as teenagers, The Outer Banks of North Carolina. Before that adventure, I was going to Douthat State Park in the state I was born and raised, Virginia. This was a special way for me to start the trip back. I was returning to another home, and I would be very close to a primitive campsite I visited many times growing up. Regretfully I wouldn't have time to stop by the site in the George Washington National Forest on Piney River, the Appalachian Trail close by. Remembering  the time I had with my mom, dad, brother, dog, and close friends at Piney River brought back early memories of being sad that I have to leave the mountains for 'home.'
For the next day and night, my home would be Douthat State Park. Now lets get down to business. The Douthat State Park Trail System is a National Millennium Trail (system),  with some recent construction, and some  going back to the CCC in the 1930's. Some of the older trails lack horizontal and vertical flow, making them pass fairly straight through the X, Y, Z axes. Nevertheless, they have manged to hold up surprisingly well with few grade reversals. Some steeper sections were eroding.  Some of the newer trails have horizontal/vertical flow, and were quite fun. There were a few chunky sections, and the random root garden as well.
I might have opted to skip the ridge, or Mountain Top Trail, and go for the bypass (Mountain Side Trail) as it may have been higher value (or more riding) than hiking my bike to the ridge. As I recall however, the descent back to where Top connects to Side was only mediocre so the HAB might not have been worth it, but the view was nice (distant mountains are bleached out in the photo below).
I camped on the lake for $26: table, pit, showers, heated in winter. Paid $5 for some wet wood, bummer. The camp was pretty quite when I was there. There are nice looking cabins for more money. See the park's website here.
Click here for a PDF map of the park's trails. I recommend a good study of the trail map, and perhaps my gps upload below. Some intersections on the northern/central portion of the loop (top of  'circle')  can get confusing.
GPX file: douthat imba epic gpx (right click to save as gpx)
MTB Projects map, this app does not show some intersections, AND takes you on the road for a piece, whereas my route avoids that road section
^Geotagged images above on map below as well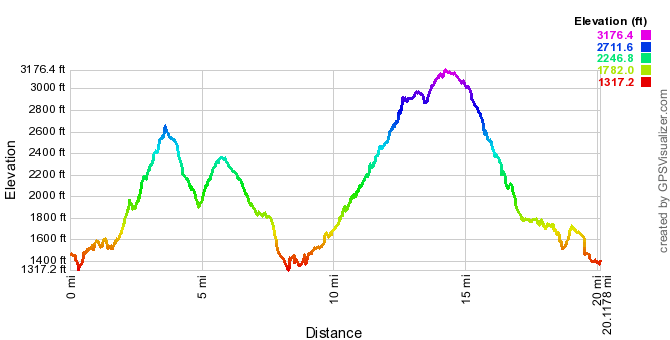 Click yellow dot for image (right click pop-up image to enlarge it)